Over the last two decades, cars have been made lighter, smarter, safer, and more exclusive than ever before. These advancements have also added layers of complexity when it comes to repairing the damage of younger vehicles. As a result, fleet managers now often face increasing repair costs and longer cycle times.

This article, based on our whitepaper: 'How fleets can reduce costs by allocating repairs more accurately', analyses some of the factors that are contributing to the extended cycle times, and provides some tips to speed up the process.
Added layers of complexity
When repairing the damage of more advanced vehicles, repairers often have to take extra steps or apply different (usually more time-consuming) repair methods. Also, not every body repair shop is capable anymore of repairing just any type of damage. Consequently, repair allocation has gotten a lot more complicated, and the process of finding the right repairer (or accidentally allocating a repair to an unsuitable one) can often lead to longer cycle times.
Fixico's data shows that in 2019, the average cycle time of repairing an advanced vehicle was 13% higher than that of a non-advanced vehicle. Let's have a look at some of the causes.
Electric vehicle safety precautions
No matter the type of damage, every electric vehicle repair requires body repairers to take precautionary measures to ensure the safety and well-being of everyone in the workshop.
Most electric vehicles (EVs) are powered by a lithium-ion battery, which is beneficial when it comes to its driving performance and low maintenance requirements. However, these batteries are dangerous when not handled carefully. In fact, if the required safety measures are not followed strictly, the battery can overheat quickly and even explode. Of course, taking safety precautions adds time to the repair duration and extends the cycle time.
The total cycle time of repairing EVs is often longer compared to non-EV repairs, because it is harder to find a body repair shop certified to repair EVs.
ADAS calibration
Many young cars, both fuel and electric, are now equipped with a range of advanced driver assistance systems (ADAS) such as lane alignment or parking sensors.
When a part that houses an ADAS-sensor needs repairing, it has to be disassembled. Once the repair job is complete, and the piece is ready to be put back in its place, the repairer needs to run and administer careful calibration tests to ensure that the sensors and the systems are still functioning correctly.
The extra step of calibration, when repairing ADAS-equipped vehicles, undoubtedly adds to the duration of repairs. Some calibration routines are quite simple, while others are much more complicated. Having said this, all kinds of calibration require a variety of skills, steps, and equipment. The process has to be carried out precisely because failure to detect any issues could pose grave dangers to drivers on the road.
Three ways to speed up the process
While it seems inevitable that the cycle time of repairing advanced vehicles will continue to increase, fleets can look at new ways to try and speed up the process.
1. Individual damage assessment and handling
The very first step in limiting cycle times is to assess and handle each damage individually, instead of treating every damage similarly. This might sound like more work, but when fleet managers start keeping track of the technical specifications of the vehicles in their fleet, they can better pre-assess each damage that comes in. Doing so enables them to have a better understanding of what is needed and allows them to allocate a lot faster based on the needs of that specific repair.
2. Identification of the suitable body repair shop
If fleet managers know which body repair shop is most suitable for the job, the repair can be assigned more accurately and will often be completed faster. Repairers who are specialised in certain materials, types of damage, repair methods, or makes can perform the repair more efficiently than those who are not. In addition, there is much to gain when taking the availability of suitable repairers into account to narrow down the search for the right body repair shop further.
3. Automation and elimination of non-essential tasks
By digitalising the repair handling process, fleets can streamline workflows and eliminate redundant tasks. With a suitable digital solution, fleet managers can work more efficiently than ever before. Instead of spending time on back and forth phone calls or emails, everything can be communicated quickly, clearly, efficiently, and often with just a click of a button.
With the assistance of a comprehensive digital solution, fleet managers can speed up the process tremendously. Our data shows that in the last year alone, fleets that have used Fixico's repair management platform have reduced their total cycle times with 34.6%.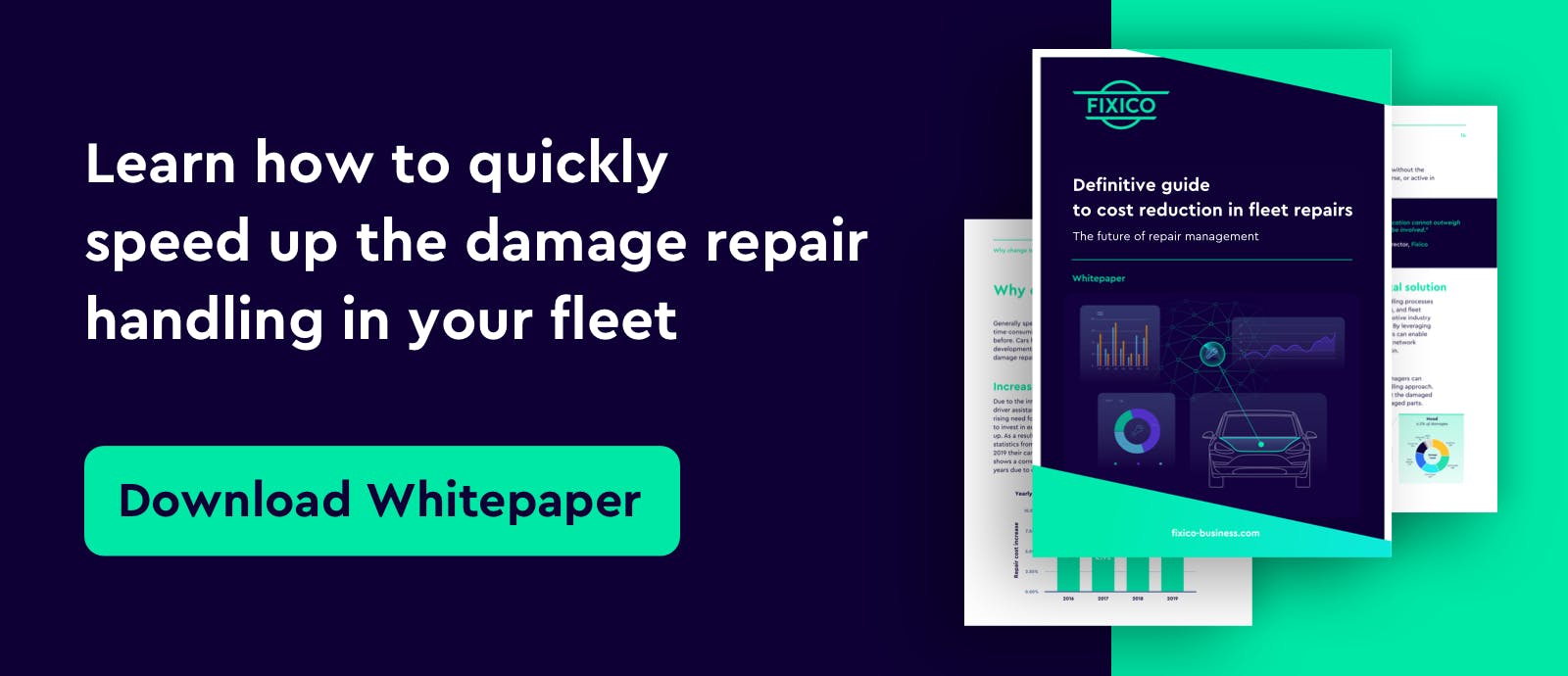 About Fixico
Fixico is Europe's leading digital car repair management platform. On a mission to reshape the industry's ecosystem, Fixico connects drivers, businesses, and body repair shops in entirely new ways. Its digital expertise and pioneering approach improve the repair handling process from every perspective; drivers experience an effortless repair journey, businesses increase operational efficiency, and body repair shops optimise their workshop utilisation. Fixico gives access to a marketplace with a network of over 2,000 body repair shops across six countries. A group of world-class investors backs Fixico, and its services are trusted by more than 100 leading fleet-, lease-, rental- and insurance companies.